Love Me Tender: Customer Support in the Cloud
3 min read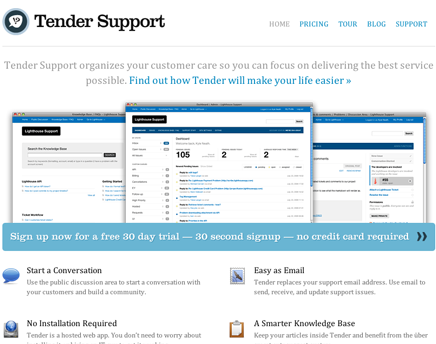 Customer Support is all about providing an answer or resolution to your customer's questions in a courteous manner and a short amount of time. As your business grows you may start to notice that some of these questions are repeated or that you are taking away time from other aspects of your business to focus on customer queries. That is why many companies, especially small businesses, are turning to the cloud. Automated customer support web applications save time and money.
What is Tender Support?
It's a hosted web application that is a great alternative to the support email address you may already be using. With it you can create a dedicated support site for your customers using your own domain and because it is fully customisable it can reflect completely your brand and business. Use it to create a searchable knowledge base (also known as an F.A.Q), organise your customer care so you never miss a query again, create a public discussion forum and to send & receive support requests. Take a look at www.tenderapp.com.
How can I benefit from Tender Support?
Tender Support is a simple way for any company who has one or more support agents to manage customer queries. Due to the searchable knowledge base you'll find that you have more time to dedicate to other aspects of your business because you'll spend less time answering repeated questions. Tender keeps track of every support discussion and notifies you when a customer is waiting for a reply by filing the discussion in your inbox. It also keeps a note of the date the query was filed to help you get back to them in a timely manner.
How much are we looking at here?
All plans include one agent and a custom domain. Additional supporters are just $20/month. A Core Plan is $9/month and includes 2GB file space, basic reporting and 5 discussion filters. The Extra Plan is £49/month and includes 10GB file space advanced reporting, 20 discussion filters, single sign-on, and is suitable for Groups/Companies. The Ultimo Plan is $99/month and includes 50GB file space, advanced reporting, 50 discussion filters, Custom branding with CSS, Single sign-on, and more exclusive features.
What else should I know?
With a little feature called Lighthouse, Synchronisation discussions in your forum can revolve around development issues and not customer problems. Lighthouse synchronization keeps your developers in the loop because sometimes customer issues are related to backend issues and you'd like to link the two issues together. Lighthouse synchronization allows you to attach Lighthouse tickets to customer support discussions. This keeps your developers and issue tracker focused, your customers in the loop with your development progress, and everyone on the same page.
Conclusion
If you are company looking to centralise or improve your current customer support system then Tender Support could be for you. It is a simple application that can build some very useful features for your business and your customers such as the knowledge base, the manageable email system and the public discussion area. It is fully customisable, allows you invite more than one user or support staff to discussions etc and is a great, time-saving tool for managing and maintaining a high standard of customer service.