Get in the Cloud and Get Paid with Ronin
3 min read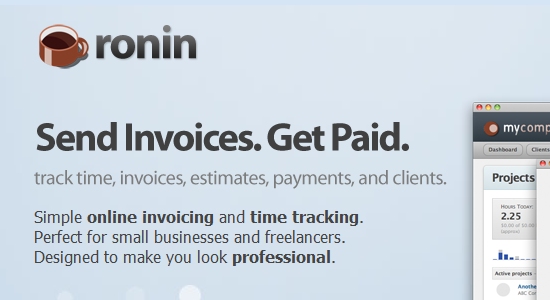 Ronin is a fantastic invoicing system for freelancers and small business owners.  It is a an app that can help manage your clients, projects, invoices and estimates so you can focus on what you do best. With cloud technology you can help your business run smoother.
Invoicing
Invoicing with Ronin is so quick and easy that it can take just 30 seconds to raise your invoice. One of the great features of Ronin is  the ability to customise your invoices to look professional with the HTML/CSS templates, so you don't have to have to be a designer or developer to send professional looking invoices. Getting paid with Ronin is also simple as they operate in a variety of currencies and you can hook up PayPal or Authorize.Net so your clients can pay you over the web.
Quotes
Just like invoices, creating a quote is simple. Customise it, add the items and send it over the web in just a few clicks. Your clients can then approve or ask for revisions over the net. Approved estimates can be converted to projects which you can then start tracking time on, and of course resulting in an invoice in order to get paid in no time at all.
Tracking Time
Whether you work alone or as part of a team you can track the hours that you have worked on a certain project with Ronin. You have the option to set a flat rate for a project or track against different hourly rates. You can set budgets for certain projects and invite clients to view progress and currently tracked hours on projects. Of course you can generate invoices from active projects.
Client Area
With Ronin your clients can also log on to view account balances and outstanding invoices or estimates. As mentioned, if you choose, they can also view the progress on their projects. This is a great way for them keep-up-to date and make them feel part of the project at hand.
Pricing Options
The Solo plan costs $15/month and includes 30 clients, 2 contacts or clients, 1 staff user, SSL Security and an unbranded interface. The Team plan costs $29/month and includes unlimited clients, 5 contacts or client, 3 staff users, payment integration, SSL Security and a custom domain. The Agency plan costs $49/month and includes unlimited clients, unlimited contacts, 5 staff users (additional users available at $10/mo/user), payment integration, SSL Security and a custom domain.
Getting Started
Create a free account with Ronin and give their basic plan a go. No credit card is required and there is no time limit. The Free plan is a great way to give it a try and it includes 2 clients, 1 contact or client and 1 staff user.
Ronin has some great features that could really help speed up the invoicing and time tracking in your business whether it is small or large. The client area is also a nifty little feature that when used could be a great tool to keep your clients happy. So give Ronin a go, with its unlimited free try-before-you-buy plan you might as well.