Aastra Purchases Telepo After In Harmony With Mitel
3 min read
Organizations with stakes in cloud are expanding their reach through mergers and acquisitions. Canadian communications solution provider Aastra, in this regard acquired Telepo, a European software vendor. The purpose behind this acquisition is to strengthen Aastra's cloud division.
Aastra that has already approved its merger with Mitel, intends to hold on to the European cloud market with the help of Nordic cloud communications solution provider. This was agreed after observing the notable growth of Telepo. According to the official statements, Aastra's European subsidiary is carrying the acquirement procedures. The acquisition is backed by the consent of Mitel Networks Corporation.
Telepo has successfully been serving thousands of users in the past few years. Telepo's solutions will further be enhanced by Aastra to serve the European market. Its customers will now have the opportunity to set up and implement premised-based as well as virtualized solutions. At the end of 2012, Telepo was serving the portfolio of more than 65,000 users. However, the company managed to raise its number of users to 90,000, with a growth ratio of 40%.
Telepo Limited is currently offering cloud based multi-tenant Enterprise Communication solutions. These solutions are grounded on highly flexible and scalable web-centric design. The solutions also entail great mobile integration with a complete range of standard voice, call center and private branch exchange features. The attained level of security integration and pre-loaded web based portals satisfy the needs of several layers of administrators.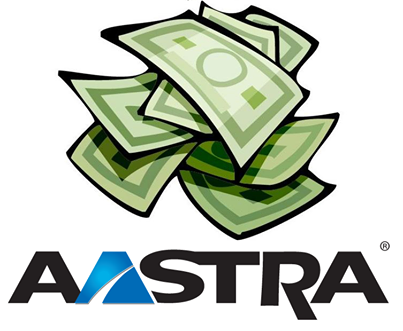 This buyout will benefit Aastra with acclaimed number of new clients, as Telepo has been providing solutions to renowned telecom providers across Europe. These include: AllTele, VoXX, Efftel, iCentrex, Servage, Uno telefoni, TeliaSonera, Cygate, Tele2, Esecom, Solus Business Communications, and Setera.
The acquisition was agreed under the expert counseling of renowned advisory firms. Baumgarten Byström Rooth & Tallavaara Advokater AB and Bowen Advisors Inc. appeared on the Telepo's side for legal and financial concerns, respectively. On the other side, McCarthy Tétrault LLP from Canada proceeded as Aastra's legal advisor.
Aastra Technologies Limited is a leading name, operating under the domain on Enterprise Communications. The Canadian service provider is known for its integrated and innovative solutions satisfying the needs of large and small businesses throughout the world. To provide traditional and IP-based communication solutions, Aastra makes screen telephones, business telephone terminals, network access terminals, digital video encoders, decoders, gateways, and Enterprise PBX. Aastra has a long history of acquisitions starting from Nortel Access Solutions Division to enterprise PBX division of Ericsson.
Telepo AB Ltd is a Swedish software vendor having expertise in designing and implementing communication solutions, which are delivered through cloud computing. It carries the proficiency of large service providers, as its CEO Lars Wahlstrom was formerly at Oracle's Global Telecom and Media Industry Business Unit, as Global Vice President. Telepo has won several awards based on its software efficiency.
For now, both the companies have disclosed certain facts on this matter. The worth of this acquisition is however still to be declared, as the information currently provided is very limited. This proceeding would be of a major concern to US-based Huawei Technology Co. Ltd, as its Canadian competitor is being welcomed in Europe.