8×8 Launches Its Patented Network Contact Center
3 min read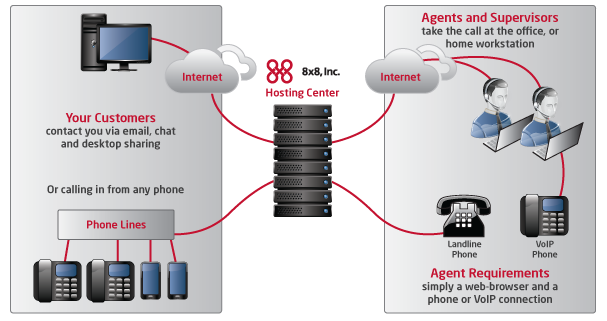 Considering the significance of two way interaction in business organizations, 8×8 has just launched a new cloud communication service, naming it as Virtual Contact Center (VCC). Being a cloud communications service provider, 8×8 claims cloud based call center software to make it easier for businesses to strengthen their relationship with customers. The first version of this cloud based application is launched, named as VCC 8.0.
Earlier this month, the above noted cloud service provider was awarded with a new patent titled as "Network Contact Center", to its VCC technology from U.S. Patent and Trademark Office. This was just an edition to the long list of patents acquired by the company within the sphere of communication technologies.
Virtual Contact Center can enhance an organization's call center facility in a number of ways. Among these, one way is to allow supervisors to oversee, monitor, and administer the customer relationship facility remotely through mobile devices. For this purpose, 8×8 has made the new technology acquainted with a variety of mobile device platforms like iOS and Android.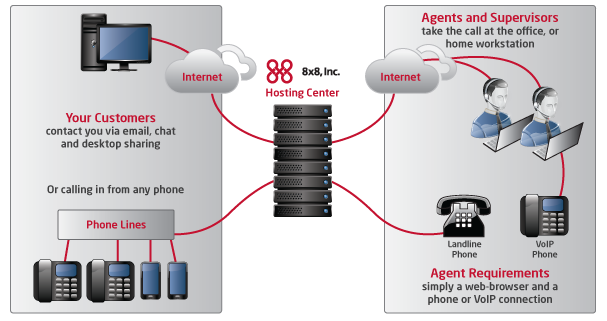 It seems that the most tiring inconvenience of conventional call centers is to be eliminated. VCC is capable of intelligently lining up the incoming traffic of callers and efficiently distribute it among the agents. This will surely reduce the delay each customer faces while calling their service providers or vendors. The customers can also avoid long hold times by requesting a callback. The respondents can then contact their callers when the call load reduces.
8×8 Inc. has assured that the new service will certainly increase the productivity of supervisors by providing them with valuable insights of the activities performed. On the lower level, agents can be benefited through easy to use interface, contact directories, queue lists, and allowance to record and play audio messages.
As it is all about Customer Relationship Management, VCC includes an enhanced and CRM tool, exclusive to this solution. This tool is actually a unified desktop view of the tasks/activities to be performed and automatic logging of new activities. Moreover the web application has the ability to run on the latest versions of widely used web browsers like Internet Explorer, Mozilla Firefox, Google Chrome, without downloading plug-ins and extensions.
Bearing in mind the current scenarios of cloud snooping, enterprises are reluctant to move their activities on remote and shared infrastructures and platforms. 8×8 assures the security of its call center software in compliance with the generally recognized standards like CPNI, HITECH, DSS, FISMA, PCI, and HIPAA. Reviewing the past performance of 8×8 solutions, we can easily assume the uptime for this new utility.
VCC has notably low startup and operational cost. The pricing strategy is molded in such a way that the clients do not have to pay more than what they acquire. One can start with a least level or even sign up for a live demo. The deployment of facility is quite easy and time-effective, allowing the enterprises to get started in six hours, at least. Moreover, the pay as you grow pricing model is quite scalable for organizations to start with little and grow requisitely.