IBM Increases Data Storage Efficiency With SmartCloud Data Virtualization
2 min read
Acquisitions, mergers, and partnerships are now vital part of the global cloud industry. Latest in this regard is the partnership between renowned IBM and Actifio, a small privately held software company.
IBM, which was recognized for its late entry into the cloud segment, is now making continuous moves to gain advantage over its major rivals like Microsoft, Amazon, and Verizon. The company has recently announced to spend around $1.2 billion on its cloud division for further enhance its services and build value added features. This latest partnership is part of the same mission IBM is on to.
Whether on-premises or on-cloud, enterprise data has the tendency to replicate itself to create several copies. Each of these copies is used for a specific and exclusive purpose. Creating and storing many copies of a similar data set lead to high data storage costs for enterprises and SMBs. That is the reason why clients are always complaining about the storage costs to their cloud service providers.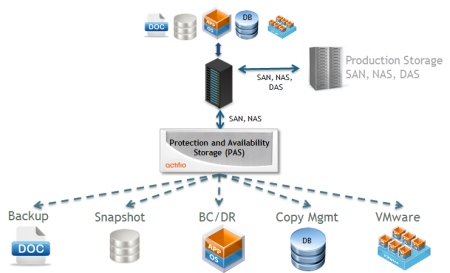 Like any other cloud provider, IBM has also been exploring the possibilities to either control the space occupation by similar data or else reduce the price per gigabyte of storage. In connection to this, IBM reached to a breakthrough point with the assistance of Actifio.
Actifio is a provider that specializes in copy data management technology and has the ability to efficiently reduce the data size and better utilize the available space. With the help of its software-as-a-Service (SaaS) product line, Actifio enable companies to store a single Golden Copy of their data and use it for multiple purposes. Such mechanism would prevent the unnecessary data replication and efficiently manage the precious storage space.
Actifio has lately been working with IBM cloud division in sustaining data storage efficiency on cloud. Now both the companies are set to enter in an agreement, according to which, Actifio will help IBM in developing SmartCloud Data Virtualization (SCDV) technology. This data technology will base on the same idea of golden copy and would not require separate data copies for different purposes. With SmartCloud Data Virtualization, business clients of IBM that are concerned about copy data management will benefit from this new technology. However, this technology would be included in overall infrastructure as a tool, and the customers will not have to make extra payments for it.
The new relation between these two companies will surely leverage IBM by adding up another useful technology in its service portfolio. On the other hand, Actifio will always remain benefited after being exposed to a wide range of IBM's client portfolio. Actifio that was earlier targeting $44 billion market on its own will now be looking forward to the $100 billion cloud market as an IBM partner.
Actifio was found in 2009, while launching its first product in 2011. Since then, the company has shown a rapid growth and acquired an impressive position in a very short time. Stated as one of the America's Most Promising Companies by Forbes, Actifio has been valued as $500 million by investors.