IBM Launches Its Online Cloud Marketplace
3 min read
Technology giant, IBM has launched a cloud marketplace where it shows a massive range of its hosted cloud services.
Other than middleware components from IBM's Bluemix platform as a Service (PaaS), enterprises can find more than hundred hosted applications by IBM. On top of that, the marketplace will allow the company's partners to showcase their latest technologies and will also serve as a portal of IBM's SoftLayer infrastructure as a Service (Iaas).
Steve Mills, the IBM senior vice president and group executive for software and systems said, the marketplace will turn out to be a revolution for IBM's customers as they can tie their cloud-based, front-end systems to their back-end infrastructure. The control services and integration components in IBM's marketplace, Mills believes, will help the company's clients complete these tasks.
Apart from IBM's offerings, some other technology companies like Zend, Redis Labs, SendGrid etc, will also present their services. Mills also revealed that the marketplace is not solely for IBM; in fact, it is an open platform, supporting almost all the renowned application development structures and tools.
No doubt, IBM is one of the leading hardware companies of the world; however, its revenues diminished in the last few years as other technology giants surpassed it. The Armonk-based organization is desperately in need of a breakthrough to change it fortunes, and technology gurus believe that cloud might make the difference for IBM.
While IBM's major rivals have been in the cloud market for a longer time, the company is catching up quickly and is fast emerging as a one-stop cloud service provider. In 2013 alone, IBM generated about $4.4 billion only through cloud services and has invested more in the technology in recent times.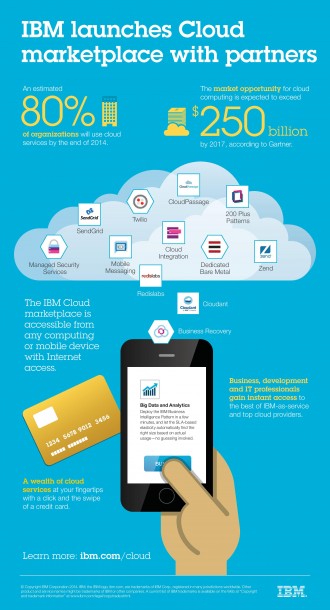 It is not just IBM which is banking on cloud to make more money; other technology leaders such as Amazon, Google and Microsoft have put a lot of emphasis on cloud in recent times.
In previous years, many businesses kept themselves away from this technology due to security and pricing concerns but the trends seem to be changing rapidly these days and according to Gartner, approximately 80 percent of companies will use cloud services in some form by the end of this year.
IBM acquired SoftLayer cloud service last year for $2 billion and since then it has spent $1.2 billion in expanding that. IBM also invested $1 billion to adapt its middleware software as cloud services, which was a part of its Bluemix offering. Therefore, you should not be surprised to see IBM's cloud revenue moving upwards in 2014.
All of these initiatives will be integrated in the online marketplace and will be accessed through different mediums such as laptops, desktops, smartphones, tablets, etc.
IBM is concentrating on three different groups of users for the site. These are line of business (LoB) managers, developers and IT administrators. The company will offer more than 100 SaaS options of various types to the LoB managers, cloud-based development environment to developers and IaaS virtual machines to IT managers, helping them perform their duties more efficiently.