IBM To Establish More Data Centers Across The World
3 min read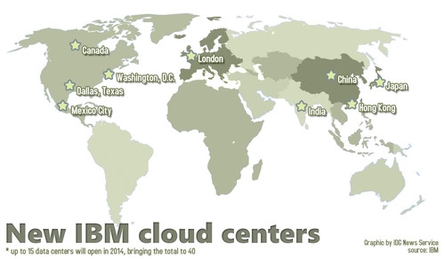 Although it has been a short while since IBM stepped in to compete in the Cloud business, it is planning to expand with a reckless pace. The company has announced to pour $1.2 billion of new investment to build new data centers at different locations around the world. The new facilities will be built in China, India, US, Canada, and UK. In addition to that, IBM intends to consider Middle East and Africa as locations for future data centers.
IBM Corporation, being a pioneer of computing technology, has the competitive abilities to establish and maintain data centers with maximum efficiency. However, the company had itself restricted to the corporate level, till the previous decade. With the innovation of IBM SmartCloud and several other developments, IBM now specializes in Software-as-a-Service (SaaS), Platform-as-a-Service (PaaS), and Infrastructure-as-a-Service (IaaS).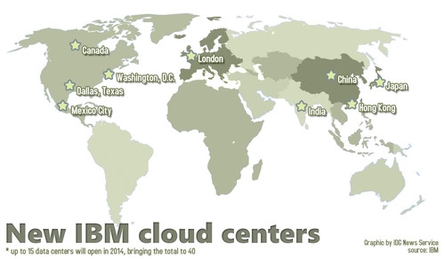 It once seemed that IBM is not much concerned about the cloud segment of overall tech industry. While the competitors like Microsoft Windows Azure and Amazon Web Services on the other side, are penetrating the cloud market more aggressively and quickly. This has led the Amazon to become the largest stakeholder in this specific sector. However, the new announcements and progressions in the recent couple of years, have uncovered its strategic attitude and the homework IBM has been doing in this regard. After an extensive research and investigation, the tech company is all set to play in each level of competition.
Currently, IBM is successfully managing 25 data centers around the globe. However, the new financing is aimed at uplifting this figure to 40, with the creation of 15 new ones. Although it could be an incredible thing to hear, one cannot doubt IBM's decades of experience in establishing and managing data centers, for itself as well as for its clients.
The increasing acceptance of private, public and hybrid clouds by individuals, small enterprises, and large corporations have led the tech giant to concentrate on this side. As the global cloud revenue will expectedly grow to $200 billion by 2020, IBM plans raising its own cloud revenue to $7 billion by 2015.
The recent acquisition of SoftLayer for $2 billion provided IBM with the grounds to serve in all areas of cloud services. These services will further be enhanced by integrating the existing data centers of IBM and SoftLayer, and new data centers to be established. The acquirement of SoftLayer has hence proved helpful for IBM in its new expansion.
A few days back, IBM pronounced to build Watson Business Group with a spending of $1 billion in United States. This will be a supercomputer data storing and processing facility and will serve the enterprises. IBM however already has the practice to serve big businesses like American Airlines, and government departments through Federal Community Cloud.
Such new ventures and announcements will definitely heighten the concerns of cloud leaders, Microsoft and Amazon. With hasty steps to spread out for the larger consumer groups, IBM is foreseen to buy a handsome market share by penetrating new markets and cutting off the shares of its competitors in the existing markets.