Oracle Embraces Cloud to Revive Growth
2 min read
With the recent disruption of Oracle's traditional business because of other companies that have made the transition to the cloud, Oracle is looking to embrace cloud upheaval and change the way it currently works.
Oracle is announcing some new plans which include partnerships with Microsoft and Salesforce.com, which are two of the company's biggest rivals. This is a sign of major change in the tech landscape caused by the move to cloud computing. The partnership with Microsoft will enable Azure customers to use Java, Oracle Database, Oracle WebLogic Server and surprisingly even Oracle Linux on Windows Server Hyper-V or Windows Azure with Oracle, providing full support and certification. Oracle's partnership with Salesforce.com is a nine-year deal in which Oracle will integrate Salesforce.com software with its workforce management application, while Salesforce.com will provide it's cloud offerings on Oracle's Java platform, operating system, database and storage server. This guarantees Oracle to achieve more customers and gives Salesforce.com new selling opportunities through Oracle products.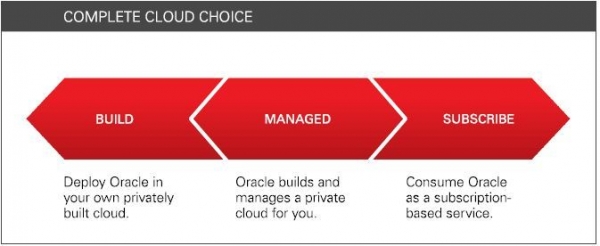 The price of Oracle's stocks went down more than 9% on Friday when it was revealed that the growth in sales of software licenses had stalled. Analysts suspect that Oracle's growth problem is due to its core license business.
Larry Ellison, the chief executive officer of Oracle, said that they will announce some startling partnerships, including those with Salesforce.com and Microsoft, to put Oracle at the heart of their own cloud operations.
Mr. Ellison claimed that Oracle was already matching to Salesforce.com in the market of cloud-based applications. He said that an important feature of our cloud business is to trade new edition of our database application to work as a platform.
Some analysts question, whether Oracle will be able to fix it's slow growth rate by moving into the cloud market, since this means that the company would have to leave high upfront revenues from traditional sales of software programs that are installed on user's computers in favor of low prices and drawn-out subscriptions of selling a service over the internet.
Peter Goldmacher, an analyst at Cowen in San Francisco, said that there are many equivalent or better services at a lower price and as a result, Oracle is looking one of the expected changes in the tech world "where the young disrupt the old," he said.
In the past, Mr. Ellison has claimed that the rise of cloud computing, which involves the centralization of computing functions, is not anything new for the industry. Last week, when the company's disappointed earnings were announced, the company's point of view was changed and Oracle executives tried to find new ways to get into the cloud market.
Mr. Ellison commented on the deals that he hopes will show a positive impact as Oracle repositions its business. The partnerships would redesign the cloud and the awareness of Oracle technology in the cloud.