Oracle Enhances Automated CPQ Cloud Apps By Purchasing BigMachines
3 min read
Oracle is desperately trying to increase its enterprise cloud portfolio and have now announced that they are going to purchase BigMachines. Oracle is currently one of the biggest enterprise cloud service providers and with the acquisition of BigMachines, their cloud services may get even more impressive. The company from Chicago has made quite a name for itself by providing cloud based CPQ (configure, price and quote) solutions. This has attracted a lot many marketing customers who use Oracle's cloud apps for social media marketing and ecommerce.
According to Oracle, the purchase of BigMachines will help the company provide better end-to-end cloud solution that will be 'smarter selling'. The solutions are designed to help customers and sales personnel to increase productivity while enhancing the profits of Oracle. The new solutions will also increase the satisfaction of customers according to Oracle, as they will be more straightforward and mission based.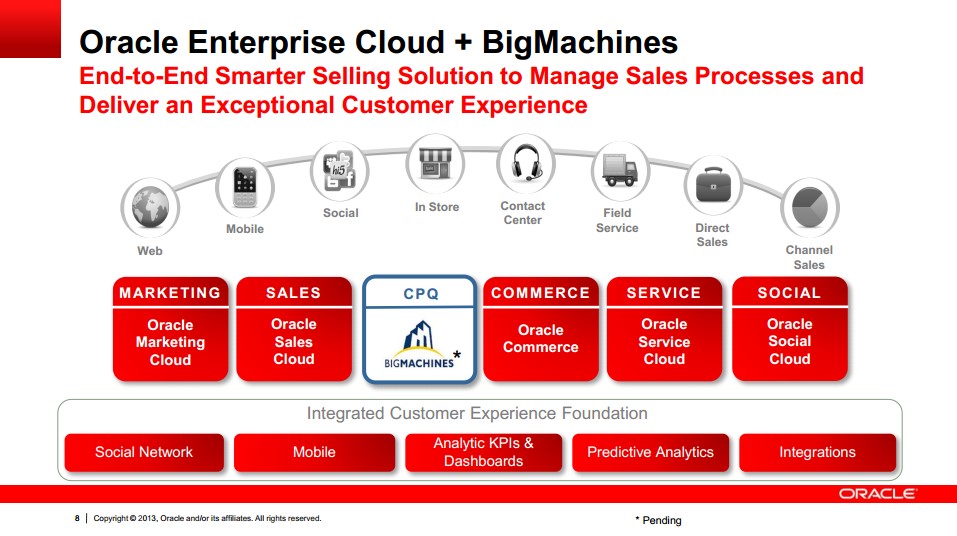 BigMachines will allow greater analysis of information to increase productivity according to Oracle. For any marketer or sales team, information and insights are required to increase revenue and reveal opportunities for a particular business. BigMachines will allow more revenue drive, which Oracle thinks will make pricing and quoting, sales, and fulfillment easier for their customers. With more processing power, marketing teams can sit back and rely on one of Oracle's greatest moves yet.
Conversion Acceleration
Even in today's world, there are some companies that still have to use manual and tedious methods to covert opportunities to orders. This is because, no automatic technology has the power or reliability to satisfy most of the companies that require complete automation for sales service. During manual conversions, there is a high risk of errors and it increases the cost of the entire exercise as well. Delay in revenue is another story which can significantly place a halt to opportunities that arrive during that time. All this results in poor customer experience and severe loss in the end.
The new CPQ cloud was designed to accelerate conversion rates and provide more opportunities by completely making sales and order process automatic. The service will have room for dynamic pricing and will guide buyers as well without having sales team do this manually. A workflow approval process will also be added which will be made accessible on any device.
This new cloud solution will allow creation of optimal quotes automatically, which many companies of today require. The automatic quote system will be useful while pricing complicated products, and sales team can configure the prices using the automation assistance. They can include promotions, deals and updates through the service which will use the data to provide quotes that match the sales team's requirements automatically.
Partnership and Competition
According to Zeus Kerravala, principal analyst at ZK Research, Oracle had been working on CPQ cloud service since a long time. It currently has a customer relationship management service but it does not have the features that BigMachines can offer. CRM offering might still be a choice for small companies that do not need complex CPQ automations.
BigMachines is linked with SAP and Microsoft, which are Oracle's competitors, so the end result will be interesting. So far, Oracle has been very partnership-friendly and used its partnerships to further enhance its cloud services.