An Overview Of Cloud Computing and Types Of Services
3 min read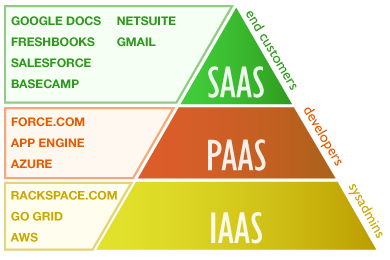 Cloud computing is no more a futuristic concept, and has flourished well throughout the globe. As being a virtual approach towards tangible software and solutions, this approach has gained much significance and pace, to entice individuals as well as enterprises, in the recent couple of years. 2013 was marked as the most substantial year for the recognition of cloud computing, as it experienced a huge ratio of companies shifting their IT activities to cloud. Analysts are forecasting that this year will surpass the scores of previous year in bringing more business and investment to this model.
This article will enlighten you with a precise and simple overview on the functionality of cloud computing. In this regard, let me first take a look at the three basic components of cloud.
Infrastructure: Cloud Infrastructure is the basic carrier of the overall cloud concept that lets platforms and applications being mounted on it. A cloud infrastructure provides complete groundwork for service providers and their clients to carry their activities remotely.
Platform: Also referred as cloud's operating system, a cloud platform is the systematic host of virtual software and applications. It offers certain tools and techniques for the developers to create their solutions.
Software: Cloud software is similar in functionality to the one set up on your personal computer. The only difference is that it is deployed on a virtual space and is accessible from anywhere through a network. Such web based applications can serve multiple users at a time, unlike a conventional desktop application.
Based on these components, cloud computing is enabled through different layers of services. A cloud service provider may specialize in a single or multiple of these services to assist developers, enterprises, and individuals. Read through the section below to understand the three basic kinds of services offered in a cloud environment.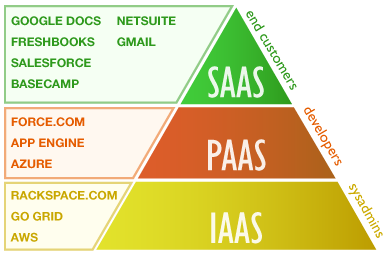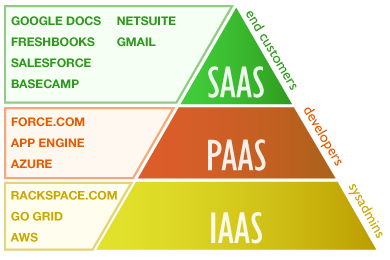 Software as a Service (SaaS):
Cloud service providers choosing software as their basic area service for clients to develop, deploy, and operate one or more applications on an existing cloud infrastructure and platform. These applications are usually offered on pay-per-use basis and considered cost efficient. Microsoft Office 365 is an example that makes Microsoft a notable actor in SaaS.
Platform as a Service (PaaS):
Those engaged in such kinds of services provide certain cloud computing platforms including operating systems, databases, programming language execution environments, and web servers. These service providers may use their own or third party cloud infrastructures for setting up their platforms. Open Shift, an open source technology offered by Red Hat Inc., is a good example of PaaS.
Infrastructure as a Service (IaaS):
Cloud computing is not possible without a dedicated and secure infrastructure. The technology firms that provide either open or close source cloud infrastructure to facilitate cloud platforms and their contained applications are referred as IaaS providers. There are certain benefactors like Verizon Terremark and SoftLayer.
By now, you must have gained a synopsis on how cloud works. There are many cloud providers concentrating in all three areas of services, while others make alliances to complete the chain.