CRM Data Enrichment: A Simple Way to Generate Better Lead
4 min read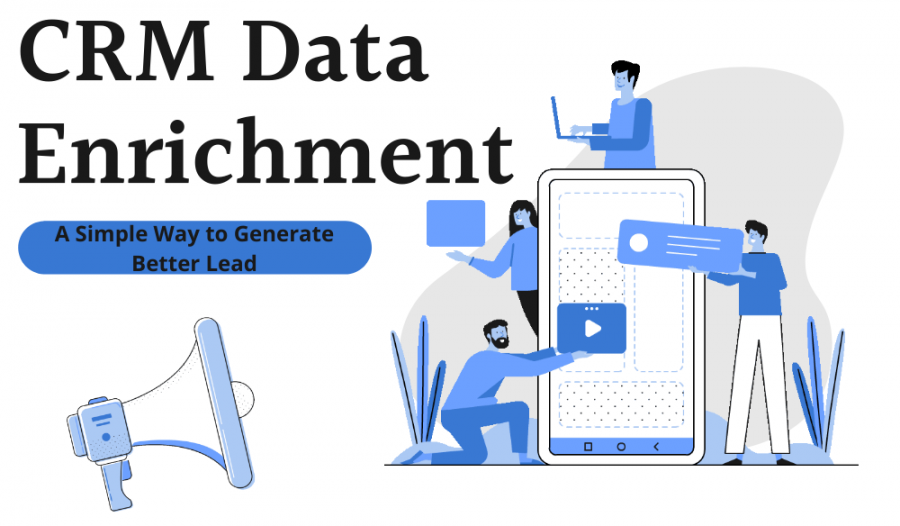 It will be an understatement to say that there's a large volume of data on every company in the world. But, there's no data hygiene to obtain accurate information about customers. Data hygiene is an important part of maintaining a strong database. Without accurately obtaining real customer data, no matter how much stored data you have it is meaningless.
To obtain reliable insights from data available in a company while boosting the sales performance, it is important to have access to the most relevant data and the data being acted upon is accurate and updated. Due to which data hygiene and data enrichment have become a central part of data-driven sales.
Consider having a 5000+ email list. While it may sound impressive to know that someone has such a huge email subscriber list, what will be your thought when that person informs you that the list comprises purchased emails along with an approx 30% bouncing rate?
For someone like me, it will sound like those 5000+ emails are a vain metric and the true values like engagement and potential conversion of the list are much lower.
While data cleaning might not involve a soapy sponge, it is about keeping your data accurate and up to date while data enrichment is the essential part of the process.
In this blog, we will go through understanding data enrichment, why it is important and data enrichment services and tools that you can use.
What is CRM Data Enrichment?
CRM Data enrichment is the process of enhancing the authenticity and precision of customer and raw lead data by adding new, supplementary information and confirming that information against third-party sources.
In simple terms, data enrichment refers to the tools and services that are used to enhance or refine raw data. For the marketing team, data enrichment broadly refers to bringing internal and external data together to create a personalized sales experience for potential and existing customers. It makes your and your customers' lives better.
Usually, in data enrichment, first-party raw data from internal sources is authenticated with separate data from other internal sources or third party, external data from a data enrichment service.
While data enrichment is about adding supplemental data to strengthen your CRM system, data cleansing is about removing irrelevant, inaccurate and outdated data from the system. Although there are several data enrichment tools (like HubSpot CRM, Customer Data Platform) and services (like Clearbit, Vainu, LeadSpace, etc), you can even design your CRM system that supports real-time data collection, cleansing and enrichment by hiring experienced developers.
How Does Data Enrichment Tools Work?
Even with the value of information on every company that has an online presence, the data supply isn't the real game-changer for the salesperson. Without advanced technology for sales, it would have been impossible to access or pull powerful information from the stock of data bits.
The working of the data enrichment process can be explained in the following three steps:
● A data enrichment or sales intelligence tool pulls real-time data from millions of quality sources online and becomes the rich reservoir of data for a company.
● You integrate a data enrichment tool in the CRM system directly or using an app connector.
● Finally, the data enrichment tool attaches the contacts in the CRM system with missing technographic, firmographic or signal data from the database and makes the CRM enriched with accurate and reliable real-time data.
Data Enrichment Services To Use
Once you have established a database for data entry and collection and linked up all the internal data sources, it's time to verify data through third-party service. To help you complete the task, there are several data enrichment services available which you can use to verify and enrich your data. Some of the services that can be used are:
1. Vainu
Vaina is a data enrichment service that collects raw data from thousands of private and public sources. Vainu unifies the collected data to provide in-depth, actionable insights for a company. It also connects with tools that are used by marketing teams and automate their tasks. Vainu offers the right data at the right place to improve the strategies of the marketing team and obtain better results.
2. Clearbit
Clearbit applies real-time intelligence across your system to enhance conversions, acquisitions, and operations. It delivers fresh and complete account profiles that prepare you to reach the targeted audience, make exceptional impressions and nourish customer relationships throughout their lifecycle.
3. LeadSpace
LeadSpace utilizes AI (artificial intelligence) to collect data and target leads based on online user behaviour. Leadspace unifies multiple data sources from contact databases, social media, marketing automation platforms and CRM systems to help businesses verify the data and find their ideal prospects.
4. LeadGenius
LeadGenius provides contact and account data to verify B2B lead information and help businesses reach out to the most accurate and engaged potentials. It uses AI and human computation to recognise and interact with leads.
5. Datanyze
Datanyze helps to find and connect with B2B prospects by providing contact information from LinkedIn profiles and company websites to verify the data. It offers data on millions of companies around the globe and can be easily integrated with a wide range of CRM systems.
Conclusion
Needless to say, without representative and accurate data, the sales outreach of your company will fail. To survive that, you need clean and enriched data to help you create content that keeps your customers as well as prospects engaged and interested in your products or services.