Internap Named as a Winner of 2012 Cloud Computing Excellence Award for Agile Hosting Services
4 min read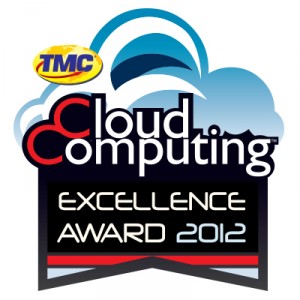 Intelligent IT Infrastructure services' provider Internap Network Services Corporation (NASDAQ: INAP) recently publicized that it has been chosen to receive the 2012 Cloud Computing Excellence Award, presented by Cloud Computing Magazine. This award is given to companies in recognition of their efforts to promote cloud computing in the market through their excellence and innovation, delivering enhanced user experience to their customers through technological advancement.
Internap was selected for the award in acknowledgement of its Agile Hosting service, a global hybrid cloud solution that delivers optimal performance and can be scaled instantaneously, empowering businesses to make compatible combinations of "bare metal" physical and virtual cloud infrastructure that result in optimization of their multi-tiered web applications. This service enables businesses to accomplish web-scale within an individual, crossbred environment in an efficient manner, along with increasing application performance.
Learnvest, a leading website on personal finance and lifestyle, offers web-based tools and advice to help women manage and control their finances. In the latter part of 2011, Learnvest – because of growing concern over the website's ability to support continuous growth – employed Internap's Agile Hosting Service in its two principal markets – New York City and San Jose, California. As a result, the website is now able to meet the rising business and application demands by instantly modifying and providing for physical and cloud infrastructure.
With Internap, Learnvest was able to improve its multi-tiered financial services application by choosing the optimal platform – either cloud or bare metal – for each tier. Internap's Performance IP™ transit service has also proved to be beneficial for Learnvest by incorporating its patented intelligent route-optimization technology, Managed Internet Route Optimizer™ (MIRO). Performance IP allows customers to quickly access Learnvest's website and applications, ensuring reliability and 100% uptime guarantee, along with providing integrated storage that is available when needed, a ready-to-use, global Content Delivery Network (CDN) and round-the-clock customer support.
"TMC is proud to announce Internap as a recipient of the second annual Cloud Computing Excellence Award, recognizing its leadership in the advancement of cloud computing," says Rich Tehrani, CEO of TMC, publisher of Cloud Computing Magazine. "Internap's Agile Hosting Services have demonstrated innovation as well as the ability to improve the cloud."
This is the second time in succession that Internap has been selected as a Cloud Computing Excellence Award winner. In 2011, Internap was honored for its private cloud solution, which includes the distribution of its customer Digital Technology International. Cloud Computing Magazine's October 2012 issue has published the winners of the 2012 Cloud Computing Excellence Award.
"Using our Agile Hosting platform, customers such as Learnvest are able to leverage hybrid cloud infrastructure services to meet their full range of application needs on demand, with one support contact, one invoice and a price to performance ratio that is unmatched by pure virtual cloud," said Zachary Smith, vice president of hosting at Internap. "Internap is pleased to be honored by TMC for our cloud service offerings for the second straight year, and we will continue to bring the market cloud infrastructure services that allow our customers to scale their applications more effectively and efficiently."
About TMC
Since 40 years as an integrated media company, TMC has been helping its clients develop communities across the globe – in print form, in person and online as well. It also publishes the TMC's CUSTOMER Magazine (previously known as Customer Interaction Solutions), INTERNET TELEPHONY, Next Gen Mobility, and Cloud Computing magazines. TMCnet.com, with 1.5 million unique visitors every month, is a leader in providing news and articles to the communications and technology industries. TMC has also produced ITEXPO, a leading B2B communications event featuring an educational program for resellers, enterprises, government agencies and SMBs etc. Apart from that, TMC operates a number of industry events: Cloud Communications Expo; Cloud4SMB Expo; CVx (ChannelVision Expo); DevCon5; HTML5 Summit; LatinComm Conference & Expo; M2M Evolution Conference & Expo; Mobility Tech Conference & Expo; MSPAlliance MSPWorld; StartupCamp; Video World Conference & Expo and more. For more information, please visit www.tmcnet.com.
About Internap
Internap offers intelligent IT Infrastructure services to customers, together with unparalleled performance and flexibility, enabling them to concentrate on their core activities, and improving their service while reducing IT costs. The company's brilliant combination of route-optimized enterprise IP, TCP acceleration and a global content delivery network greatly enhances user experience by improving performance of the website. Its colocation, hosting, private cloud, public cloud and hybrid solutions are highly scalable, allowing businesses to adjust to the ever-changing business and IT environment. Since 1996, Internap has been serving numerous companies by protecting and delivering their online applications, lending them a competitive edge in the market. For more information, please visit http://www.internap.com, visit the company's blog at http://www.internap.com/blog or follow it on Twitter at http://twitter.com/internap.