The Real Power Suckers Are Mobile Clouds, Not Datacenters
3 min read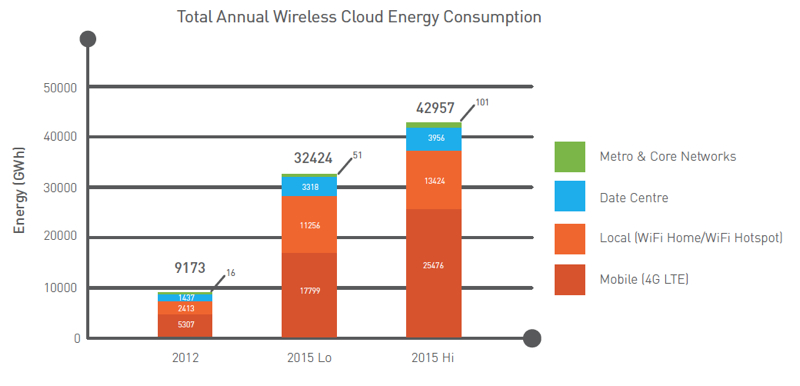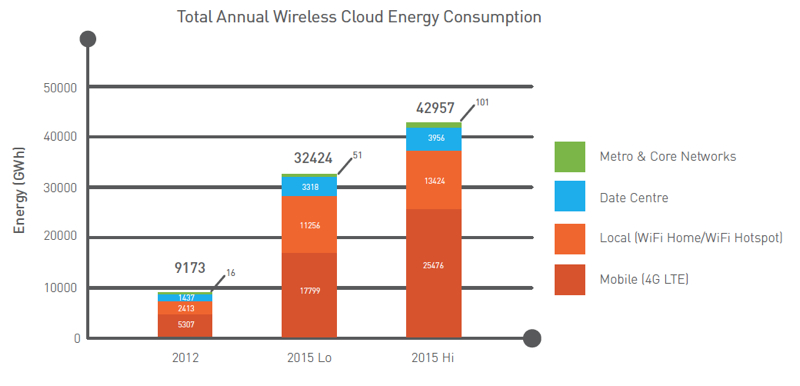 A recent study reveals that as compared to datacenters, wireless infrastructures consume 10 times more power, holding a 90 per cent power share. Datacenters only use 9% of the total energy available. Also, the rate of cloud power consumption is increasing rapidly.
The report titled The Power of Wireless Cloud is published as a joint project by Alcatel-Lucent Australia's (AT&T's) Bell Labs and the University of Melbourne in Australia. It is authored by a two-year old Center for Energy-Efficient Telecommunications (CEET).
The study was actually intended to negate the Greenpeace report, which in its Cool IT campaign investigated that with a growth in cloud technologies how top technology companies consume power utility of datacenters as they are the core of cloud infrastructures. According to the Greenpeace report, it is the cloud datacenters that are actually responsible for greater power consumption, but the CEET report contradicts this idea and says "Previous analysis and industry focus has missed the point: access networks, not data centers, are the biggest threat to the sustainability of cloud services."
According to CEET, "The energy consumption of wireless access dominates data center consumption by a significant margin." The findings by CEET researchers highlight that both the wired networks and datacenter-based cloud applications reduce overall consumption of computing energy by letting it for less powerful client devices.
CEET research states that by 2015 nearly 32 to 43 terawatt-hours of electricity will be used by wireless cloud infrastructures across the globe, producing  carbon dioxide of 30 megatons ― almost equal to carbon emission of about 4.9 million automobiles. These anticipated figures are 460 per cent more as compared to figures of 2012 ― just 9.2 terawatt-hours.
Important factors behind such huge consumption of energy by wireless infrastructures include increasing accessibility and usage of cloud services in laptops, smartphones and other mobile devices. It is believed that even today and in times to come, mobile-access networks will consume a greater chunk of energy, followed by local access equipment and datacenters. Metro and core networks will have a minimum share in energy consumption, as per the report.
CEET maintains that the figures of 43 terawatt-hours of power consumption are based on a scenario that by 2015 there will be two billion wireless network users generating traffic of 4.3 exabytes per month. 32 terawatt-hours of electricity consumption is needful when cloud users reach 1.6 billion with 2.2 exabytes of traffic. The user list includes all those who access the cloud using WiFi from home or public, mobile apps, datacenters and metro and core networks that connect all above.
The estimated user count is based on ABI Research and Infonetics provided data, while the volume of traffic predictions is made using Cisco, Alcatel-Lucent, Nokia Siemens Networks and Ericsson forecasts.
In an article, Tim Marshall, Alcatel-Lucent's Australian spokesman stated that the purpose of research is to explore green telecommunications. Although the networks have become important parts of our lives, for efficient energy consumption, a significant shift is needed.
As per Gary Cook, a senior policy analyst for the Cool IT campaign at Greenpeace, the CEET findings have identified a key aspect that wasn't examined before. He appreciated the efforts of CEET researchers by saying, "It's quite useful to have someone take a deeper look at this."He appreciated the efforts of CEET researchers by saying, "It's quite useful to have someone take a deeper look at this."